CP Kelco, one of the global leaders of nature-based ingredient solutions, announced that its citrus fiber, marketed as NUTRAVA® Citrus Fiber for the food and beverage sector and KELCOSENS™ Citrus Fiber for the personal care sector, has been certified as an upcycled ingredient by the Upcycled Food Association.
"We are proud to be the first in the industry to have our citrus fiber recognized as an Upcycled Certified® ingredient," said William Letsinger, Senior Director of Strategic Growth Initiatives for CP Kelco. "Our team is committed to ensuring we achieve a near-wasteless lifecycle for NUTRAVA® and KELCOSENS™ Citrus Fiber products."
A nonprofit focused on preventing food waste, the Upcycled Food Association offers the first third-party certification program in the world for upcycled food ingredients and products through its Upcycled Certified Program. The association defines upcycled products as those containing food that otherwise would not have gone to human consumption, are procured and produced using verifiable supply chains and have a positive impact on the environment.
CP Kelco's citrus fiber is upcycled from spent citrus peels, an abundant byproduct of the juice industry near the company's manufacturing facility in Brazil. Supporting a circularity mindset, leftover materials from the citrus fiber production process are repurposed. Nutrients in the process water are used to fertilize local crops, such as sugar cane.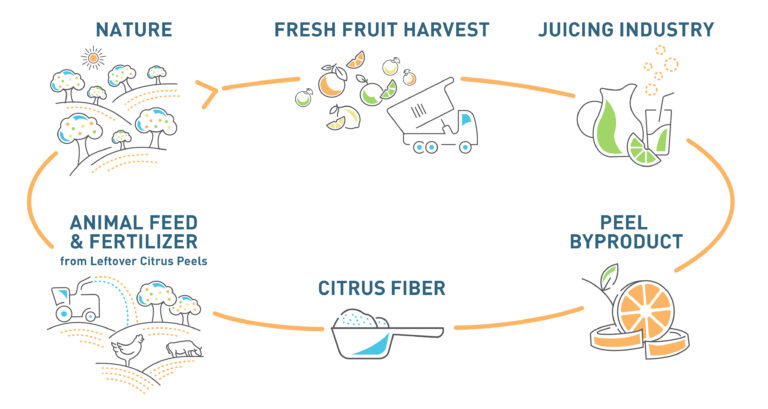 NUTRAVA® Citrus Fiber is a highly versatile food ingredient that can be listed simply as citrus fiber on the label. It supports dietary fiber intake while providing emulsion stability, viscosity, mouthfeel enhancement, syneresis control and water-holding capacity. Easily recognizable by consumers, it can be beneficial for applications as diverse as baked goods, beverages, condiments, sauces, dairy, dairy alternatives, and meat and meat alternatives. In addition, NUTRAVA® Citrus Fiber supports the replacement or reduction of ingredients including traditional emulsifiers and stabilizers, starch, egg, butter, xanthan gum, tomato solids as well as fruit pulp.
Introduced in March 2023, KELCOSENS™ Citrus Fiber is a next-generation ingredient for personal care product development. It can be used in a range of products, from silky serums to luxe creams, to help formulators stabilize emulsifier-free formulations and deliver SENSational textures.