The Product Awards are a new addition to the Farm Shop & Deli Show line-up, adding unrivalled value to regional food and drink producers and showcasing excellence in the industry. Scores of suppliers across six categories (Meat, Condiments, Bakery, Beverages, Confectionery, and Preserves) scooped gold, silver and bronze accolades. The awards were judged by an exacting panel of industry experts who considered criteria including sustainability, ethical brand stories and provenance.
Gold Winners in full:
Brindisa Ltd's Tomato & Beetroot Gazpacho (Beverages)
Goosnargh Gin's Chapter Two – Dark Skies and Chapter Six – Dappled Light (Beverages)
Tayport Distillery's 1992 Raspberry Liqueur (Beverages)
The Ribble Valley Gin Company's Country Markey Gin           (Beverages)
Wye Valley Meadery's Traditional Mead (Beverages)
Glenilen Farm's Raspberry Yogurt Jar (Confectionery)
Love Corn's Chocolate Crunchy Corn – Milk Chocolate & Sea Salt (Confectionery)
Over the Moo's Ice Cream Mini Bites – Caramel (Confectionery)
Top Meats' Japanese-style Duck with Oranges and Ginger (Meat)
Edge and Son's Fennel and Aleppo Pepper Saucisse Sèche (Meat
Edge and Son's Nduja Smoked Spreadable Cured Sausage (Meat)
Edge and Son's Air-dried Ham "Jambon de by Ours" – Culatello Style (Meat)
Edge and Son's Boerewors
The Fruit Pig Company's Fresh Blood Black Pudding (Meat)
Suffolk Salami's Suffolk Coppa (Meat)
From Our Farm's Tomato & Basil Biltong (Meat)
The Original Baker's Steak and Ale Pie (Meat)
Tim Potter Son and Daughter Family Butchers Ltd's Country Pork Sausages (Meat)
Ragley Estate Meats' Honey Smoke Sausage (Meat)
Beckfords Rum Spirits / Zen Experiential Ltd's Euphemia Scotch Whisky (Beverages)
Beckford's Rum c/o Zen Experiential Ltd's Maroon (Beverages)
Single Variety Co's Passionfruit Preserve (Beverages)
Heart and Soul Nuts' Extra Roast Crunchy (Preserves)
The Tracklement Company's Dill Mustard Sauce (Condiments)
Blackthorn Scottish Sea Salt Flakes (Condiments)
Yarty Cordials Ltd's 'B' Black Garlic Vinegar (Condiments)
To see the full list of silver and bronze award winners, visit: https://product.farmshopanddelishow.co.uk/live/en/page/winners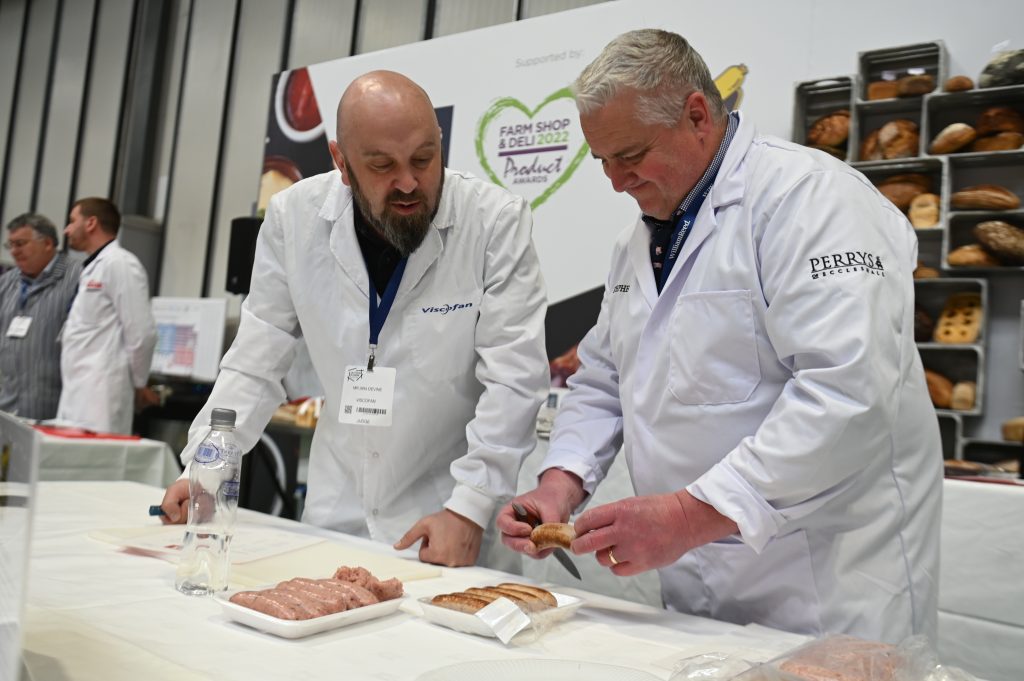 Dragon's Pantry
The ultimate, nerve shredding test returned to Farm Shop & Deli Show this week as courageous entrepreneurs faced down fearsomely experienced industry 'dragons' in a series of 15-minute pitches. One successful pitch per day (Tuesday and Wednesday) would be chosen as winner, with both then going head-to-head for the prize of exclusive coverage in The Grocer and with it the tantalising chance of a listing.
Hatari chill sauces and condiments was the big winner, its creators presented their range of sauce and mash pots – single aromatic chilli varieties, grown in Africa and bottled in Devon – to the dragons in a passionate and professional address. The company went up against Wednesday's winning pitch from Green Sisters – a plant-based, allergen-free food company specialising in Indian inspired dishes.
Annie Mae Tomlins, who heads up product development and sales for Hatari brand owner Feisty Foods and did the winning pitch with her father Gary, commented: "We're just starting out so to get advice from such well respected and experienced people is invaluable. We were so excited [to win] and have had some great conversations because of it and it's opened lots of doors already. For us, it's just reconfirmed that being at a show like this means we're doing the right thing. It really feels like this is our time."
National Convenience Show, Farm Shop & Deli Show and Food & Drink Expo return to the Birmingham NEC in 2023 (24th – 26th April), bolstered by the dual additions of Foodex and The Ingredients Show.