Located Bedfordshire near the city of Luton, the new facility is half a kilometre long and, at 1.2 million square feet in size, covers as much space as 33 football pitches.
It is three times the size of a typical Lidl warehouse and will ultimately serve 150 stores, compared to between 60 and 80 for the company's usual facilities.
The warehouse was given its official launch in early September, with publicity from the opening likely to help the company to generate interest from potential staff members.
Currently more than 400 people are employed at the £300 million (€350 million) warehouse, but numbers are set to increase to as much as 1,500.
"It's physically demanding work, but we don't always have to hire burly six-foot men," Jennifer Davidson, regional director, Lidl GB, said in an interview broadcast by the BBC.
"You will see many people around here who enjoy part-time work; we offer flexibility. Every week one or two colleagues are being promoted from warehouse operative to senior warehouse operative."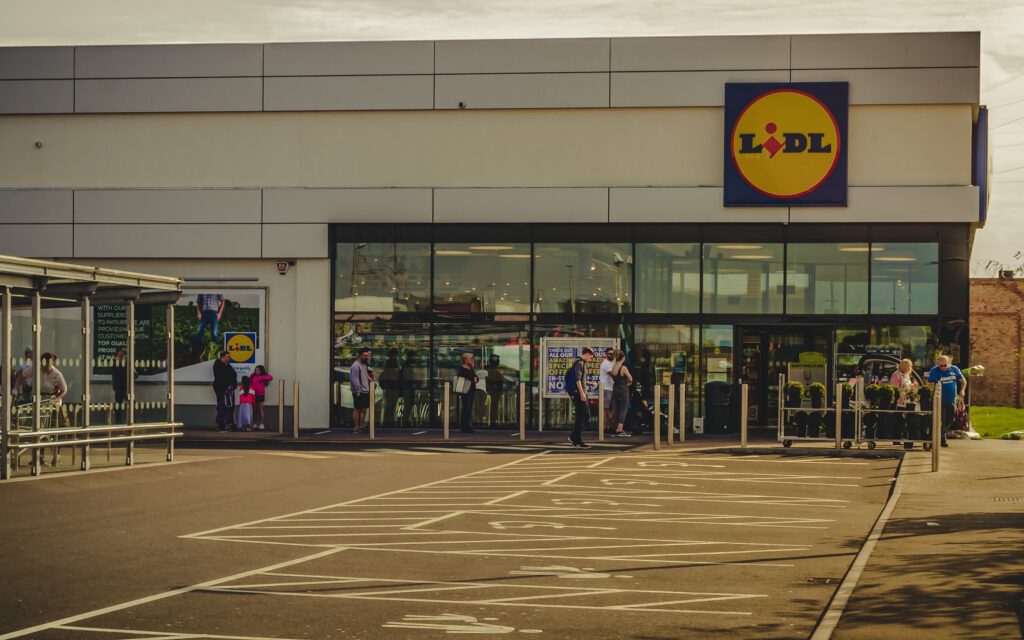 The regional distribution centre, as the warehouse is officially known, will deliver more than 9,400 pallets a day, the company said in a press release.
Significant investments in automation are being made at the warehouse, something that Lidl said would allow capacity to be increased.
Solar panels will generate 2 million kilowatt hours of electricity each year and at certain times, the warehouse will rely only on solar power.
The delivery fleet from the warehouse is powered by biogas from fuel waste, which Lidl said tied in with its aim of having all of its fleet diesel free by the end of the decade.
Lidl is continuing to expand rapidly in Great Britain, having opened more than 50 new stores last year, with an additional 19 having launched in early 2023.
In a statement, Richard Taylor, the chief development officer at Lidl GB, said that the opening of the new centre was "a seminal moment for Lidl GB". He described the new facility as "a spectacular state-of-the-art site".
"Demand for Lidl has never been higher, and we are seeing and increasing number of people walk through our doors to make savings on every shop," he said.
"The fact that Lidl's largest regional distribution centre in the world is here in Great Britain speaks for itself no only in terms of us needing to meet the growing demand from customers, but also in terms of our ambition to grow that demand in future."
The warehouse is close to the M1 motorway and is part of what is sometimes known as the M1 corridor, an area with many distribution facilities.
"It will support confidence in Luton and the surrounding region. It's going to create a lot of jobs [and] investment opportunities," Yaqub Hanif, the mayor of Luton, said in a BBC interview.
In May this year Lidl announced that it had submitted a planning application for another regional distribution centre, this one about 580,000 square feet in size, close to the city of Leeds in the north of England.
If the plans get the go-ahead, the facility, earmarked for a 35-acre site, could eventually create more than 400 jobs, the company said.
Other regional distribution centres opened by Lidl in the UK in recent years have been in Motherwell, Peterborough, Doncaster and Belvedere.
In comments in a statement released in May, Mr Taylor said the company had invested more than £700 million (€816 million) in Great Britain in the past five years and the company ultimately hopes to have more than 1,100 stores in Great Britain. Lidl additionally has more than 40 stores in Northern Ireland.
Lidl, which is part of the Schwarz retail group and is a key rival to fellow discount chain Aldi, has more than 12,000 stores around the world, over 360,000 employees and over 200 warehouses and distribution centres.