Written By Juan Carlos – The global honey market has not just survived the impact of COVID-19 but has exhibited increasing global demand and is set to be an 11.16 Billion dollar industry by 2027. Considerable increases in export volumes from markets with the most potential growth, such as Ukraine, Turkey, Mexico, and New Zealand, confirm the increasing demand trend for honey.Escalating demand for natural honey worldwide
The demand for natural honey has increased at a notable pace in the last few years, especially in markets such as Europe, the United States, and Japan. High profits and demand associated with organic products are driving the growth rate of the natural sweetener industry. In particular, Honey has been advocated as an ideal substitute for conventional sugar due to its various health benefits.
The global honey market size was USD 7.19 billion in 2019 and was estimated to exhibit a steady growth rate of 9% in 2020. The market is forecasted to grow from USD 7.84 billion in 2020 to reach USD 11.16 billion by 2027, exhibiting an annual growth of 5.2% during the forecast period.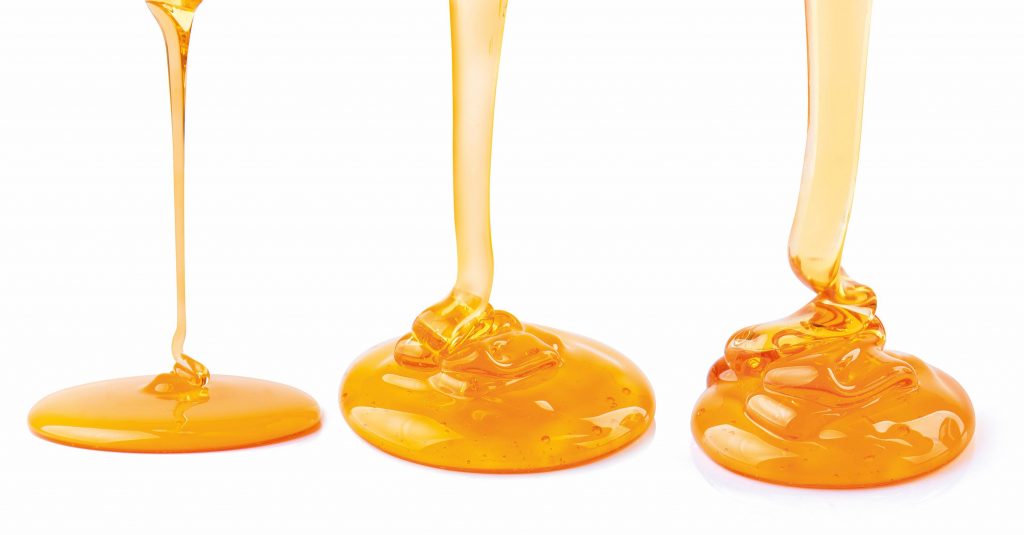 Increasing honey consumption amid COVID-19
The global impact of COVID-19 has been unprecedented and staggering, with honey witnessing a positive demand shock across all regions amid the pandemic. Increasing honey consumption to treat severe coughs and cold-induced by the coronavirus and the seasonal flu is anticipated to propel market growth.
In addition, the demand for immunity-boosting products even after the end of the pandemic is expected to remain strong, which can add to the revenues of the market. Due to its antibacterial, antiviral, and antifungal properties, honey is receiving appreciation and broader acceptance as a medicine to treat acute cough and throat infections.
In particular, the consumption of honey and other bee-products has increased in developed markets as a direct result of the coronavirus. Many people believe that consuming bee-products will help boost the immune system, and sales have spiked as a result.
Successful forecasts for some of the main suppliers
In 2019, the honey export market was led by China, accounting for 11.9% of the share, followed very closely by New Zealand at 11.6% as the country with the biggest annual growth, reaching a new record in 2017 at USD 269 million. Following New Zealand, Argentina and Germany hold third and fourth places, respectively, at 7.4% and 6.4% of the share.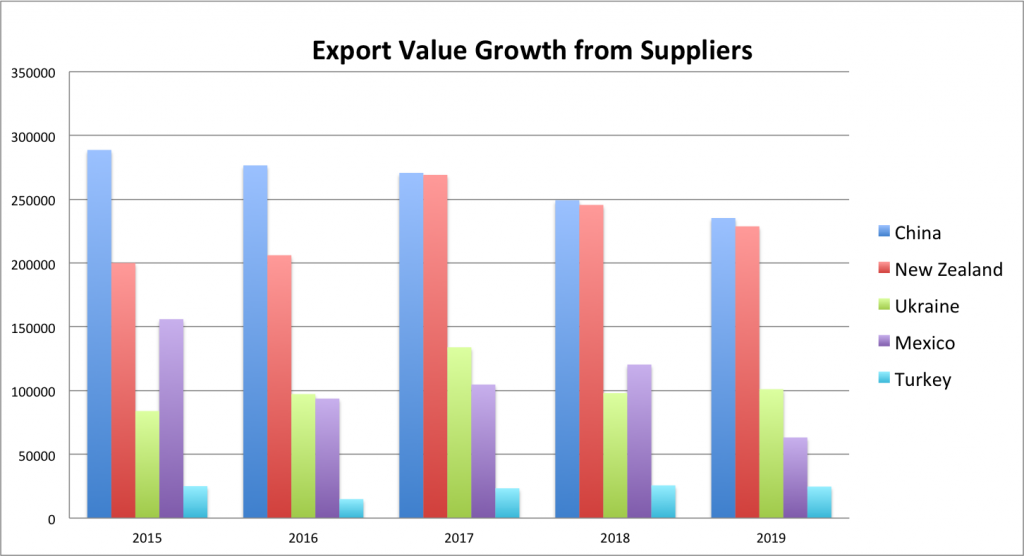 According to the reports of some of the main honey producers, the past 2019 market share might have different rankings by 2020, as they claim to have exponential growth in their exports within the year. New Zealand, Ukraine, Mexico, and Turkey have all reported considerable export growth for 2020, and consequently, they have announced expected growth for the coming years.
New Zealand
Even before the global COVID crisis, New Zealand honey exports increased quickly during the past ten years due to stronger overseas demand from countries such as China, the US, Britain, and Australia.
In 2020, demand for natural foods had boosted the New Zealand honey export. The National Agriculture industry organization has declared that stronger demand for natural foods during the COVID-19 pandemic has resulted in a booming honey industry in New Zealand.
The country exported NZD 413 million worth of honey in the year by the end of May, more than four times the export value ten years ago. In May 2020, honey exports were worth NZD 49 million, which was an increase of NZD 17 million or 53% compared to the same month last year in 2019.
Ukraine
According to a consultant of the Food and Agriculture Organization (FAO), Ukrainian honey exports in 2020 reached an absolute record – almost 81 thousand tons with a total value of USD 138.9 million (the previous maximum was 67.8 thousand tons or USD 133.8 million in 2017).
Exports of Ukrainian honey in 2020 have almost doubled. In 2020, honey exports from Ukraine increased by 45.1% compared to the previous year – to 80.8 thousand tons from 55.7 thousand tons, and in dollar terms – by 27.2% (from USD 101 million to USD 139 million).
In particular, exports of honey from Ukraine to the UK increased 19 times. The free trade zone with Great Britain opens great prospects for Ukrainian honey producers. As a result of the agreement, Ukraine is now able to supply the UK with 1,000 tons of honey a year within the duty-free quota. Over the past 5 years, the volume of honey exports from Ukraine to the UK has increased from USD 52 thousand in 2015 to USD 973 thousand in 2019 – by almost 19 times.
Mexico
The Ministry of Agriculture and Rural Development (SADER) released a report early this year which stated that international honey sales reached 26.8K tons from January to November 2020, a volume 3.3 % higher than that registered in the same period during 2019.
This same preliminary report highlighted that the national production from January-November of 2020 was at 47.7 thousand tons. Over the last 2 years, the production of honey has been increasing by over 31% on an annual basis. Due to the increased production, most of the suppliers are searching for the export market.
The Ministry also detailed that based on a preliminary report from the Agrifood and Fisheries Information Service (SIAP), that in these 11 months of 2020 the value of honey exports was USD 65.4 million.
In addition, SENASICA, the main regulatory entity, has signed an agreement with The Association of Honey Producers to encourage export certifications and certified their products for the purpose of export. With this certification, Mexican producers will gain a better positioning of their product on the global market, which demands quality control.
Turkey
110 thousand tons of honey were produced in Turkey this year. The number of hives and honey production in Turkey has increased. The number of hives, which was 5.6 million in 2010, reached 8 million as of this year, and honey production increased from 81 thousand tons to 110 thousand tons.
Even though Turkey is not yet considered to be a major global honey supplier, last year reported export numbers are worth mentioning.
The Eastern Black Sea Exporters Association (EBSEA) stated in early 2021 that Turkey earned USD 1.286 million from honey exports from the Eastern Black Sea in 2020, as 399 tons of honey were exported from the region.
While honey was exported to 5 countries from the region in 2019, the number reached 11 by 2020, highlighting that the market diversification strategy has been implemented even amid the pandemic crisis.
Sources:
Global Times. ¨Demand for natural foods boosts New Zealand honey export¨
¨Crecen exportaciones de miel mexicana: Agricultura¨
Fortune Business Insights. ¨Honey Market Size, Share & COVID-19 Impact Analysis¨
¨Named the largest importers of Ukrainian honey in 2020¨
¨Salgında arı ürünlerine olan talep katlandı¨