The brand has an interesting story for the food industry. Their products are delicious, healthy and sustainable for consumers, they have longer shelf-life freshly and healthily, a feature which is good for sellers and consumers. We asked the secrets of this story to Selin Arslan, Founder of Farmhood.
What is the story behind the emerge of Farmfood brand?
How would you brief your brand? The Farmhood brand was born from the idea of transforming agricultural products into more value added products; while preserving their natural form, taste and nutritional value. I decided to start my journey in food technology with the goal of protecting and developing our country's agricultural resources, increasing the value of agricultural production and reducing food waste. After gaining experience in the supply chain area for a long time, I left corporate life in 2021 and started my research in our mandarin orchard in Bodrum. After meeting with farmers, business owners and agricultural engineers in the region, I learned that the value of Bodrum mandarins is decreasing due to their seedy structure. As a result, the trees are being neglected and the quality of the fruit is also decreasing. This incident showed me that there is a significant need for new food processing technologies, so I started Farmhood's activities with the freeze-drying method, a high quality food drying technology.
What does your product range include and which ones are the most-demanded items?
Berries such as strawberry and raspberry are in high demand both by end consumers and by industries that use our products as intermediate products. In retail, fig, pineapple and corn are our other best sellers.
Can you furnish us with information about Freeze Dry? What's its difference from traditional drying systems? Do you have plans to use this technology in different areas as well?
Freeze drying is the most advanced food drying technology in the world. Unlike conventional drying methods, which take place at high temperatures, the moisture contained in the products is removed under low temperature and low pressure. Thus, the products lose almost all their moisture, but the spoilage caused by high temperatures does not occur. At the same time, the shelf life of the conventionally dried fruits is limited, as the moisture contained in the products can only be removed to a certain extent.
We use this advanced technology for the production of our fruit and vegetable chips. Thanks to this method, we are able to preserve 97% of the nutritional value of the food and turn the products into crunchy snacks without destroying their original shape. Moreover, our products are also used in meals and desserts, and can be kept in their moisture-proof packaging for 20 years without spoiling.
On the one hand, developing different products using freeze drying technology. We are experimenting on flavoring and adding functional properties by pre-processing our vegetable and fruit chips. In this way, we aim to produce healthy snacks that appeal to different tastes and interests.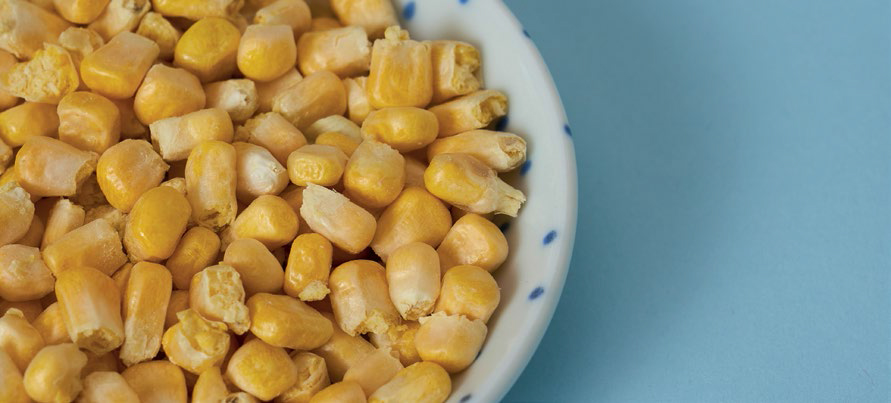 Your products differ with their shelf-life of "two decades". This is a unique feature. Many of food product do not have this much shelf-life. Can you comment on this issue?
The reason why our products have a shelf life of up to 20 years without any additives or preservatives is that the moisture content of fruits and vegetables is reduced down to 3% thanks to the freeze-drying process. This value is so low that it is below the amount of water needed for the microbiological activities that cause food spoilage. On the other hand, the moisture content of conventionally dried products can be reduced to only 20%, resulting in a maximum shelf life of 12 months.
Long shelf life is beneficial not only for consumers, but also for other businesses. Just imagine, you can store a product with seasonal freshness on the shelf for months. It's an innovation that significantly reduces waste and costs for food businesses such as restaurants, chocolatiers, confectioners or cereal manufacturers. In retail, the long shelf life adds convenience to operations.
What would you say about your existing and target export markets?
As part of our international expansion plans, we have begun to take steps to export in online marketplaces and are negotiating with our potential customers from various countries to sell branded products. In particular, products such as apricots, figs, tangerines and strawberries produced in Turkey are attracting attention in countries such as Dubai, the United Arab Emirates and Germany. As the Freeze Dry technology is well known in the American market, we are also in talks with companies to enter this market.
How do you evaluate your position in domestic and international markets? What are your advantages and plans?
Farmhood brand started its journey with the aim of becoming a major player in the healthy snacks market by creating natural and innovative products. We see Freeze Dry products as the food of the future and, unlike many other brands, we are committed to the development of the sector. While we introduce freeze-dried vegetable and fruit crisps to consumers as snacks, we highlight their applications in various food sectors as intermediate products. The fact that our team is experienced in food technologies sector allows us to make the right moves in the market. As an innovative startup, we have a creative, dedicated and competent team. Our dynamic structure allows us to act agilely and adapt quickly to risky situations. We follow food trends very closely and focus on products that are missing in the market when designing our product range.
We are very careful in selecting raw materials and use our technology in the most accurate way. Our goal is to offer our consumers a more diverse range of healthy foods made by using freeze-drying technology. We design healthy snacks with functional properties. We see how difficult it is to find healthy snacks without additives, preservatives or added sugars; and that some products that are portrayed as healthy are not that innocent. We also realise that our options are very limited when it comes to eating something convenient and healthy. Therefore, we are working to meet this need.
Vegan products have recently gained more ground. How did the pandemic era influence your products?
Today, when you create a new product, you have to appeal to many buyers with different needs. When we started Farmhood, our goal was to create healthy snacks that everyone could enjoy. For this reason, our products are not only vegan, but also gluten and lactose free.
With the pandemic, we have noticed that consumers who did not particularly care about healthy eating before are now paying more attention to what they eat. Many people have started eating better, not only to stay fit, but also to feel healthy. At the same time, our products have become a reliable and convenient alternative for many consumers during the pandemic because they are stored in protective packaging.
In addition to our snack products, we also have intermediate products addressing to various food industries. I would also like to underline that we are developing new healthy snacks and we have excellent successes in this.