WHAT IS STEVIA?
Steviol glycoside is a white crystalline powder extracted from the leaves of stevia; also known as; Rebaudiana BERTONI. The plant, which is referred to as sugar grass in Turkish, was first discovered in its homeland Paraguay in 1887 by Antonio BERTONI. Stevia has been used to sweeten our traditional teas for more than 400 years in history.
Stevia, a natural sweetener, which has come to the forefront in the field of pharmacology with its therapeutic properties for many years in Paraguay and Brazil, was approved by the FDA in 2008 as an ingredient for addition to food, and in March 2010, it received the approval of the European Food Safety Authority (EFDA) and gained its legal basis for commercial use has taken. Today, it has started to be used extensively in the field of food.
While the main constituents of stevia extract are Stevioside and Rebaudioside-A, Rebaudioside-A has a superior taste than steviol glycoside, it can improve taste quality with appropriate mixing ratios and enzymatic glycosyl modification by balancing the taste characteristic in each product.
Below you can find our stevia products that we offer in different norms.
– Steviol glycoside
– High content of Rebaudioside A
– Mixture (steviol glycoside and dextrin)
– Enzymatically modified stevia
– Low-calorie sweetener (Stevioside and
Rebaudioside (Figure1)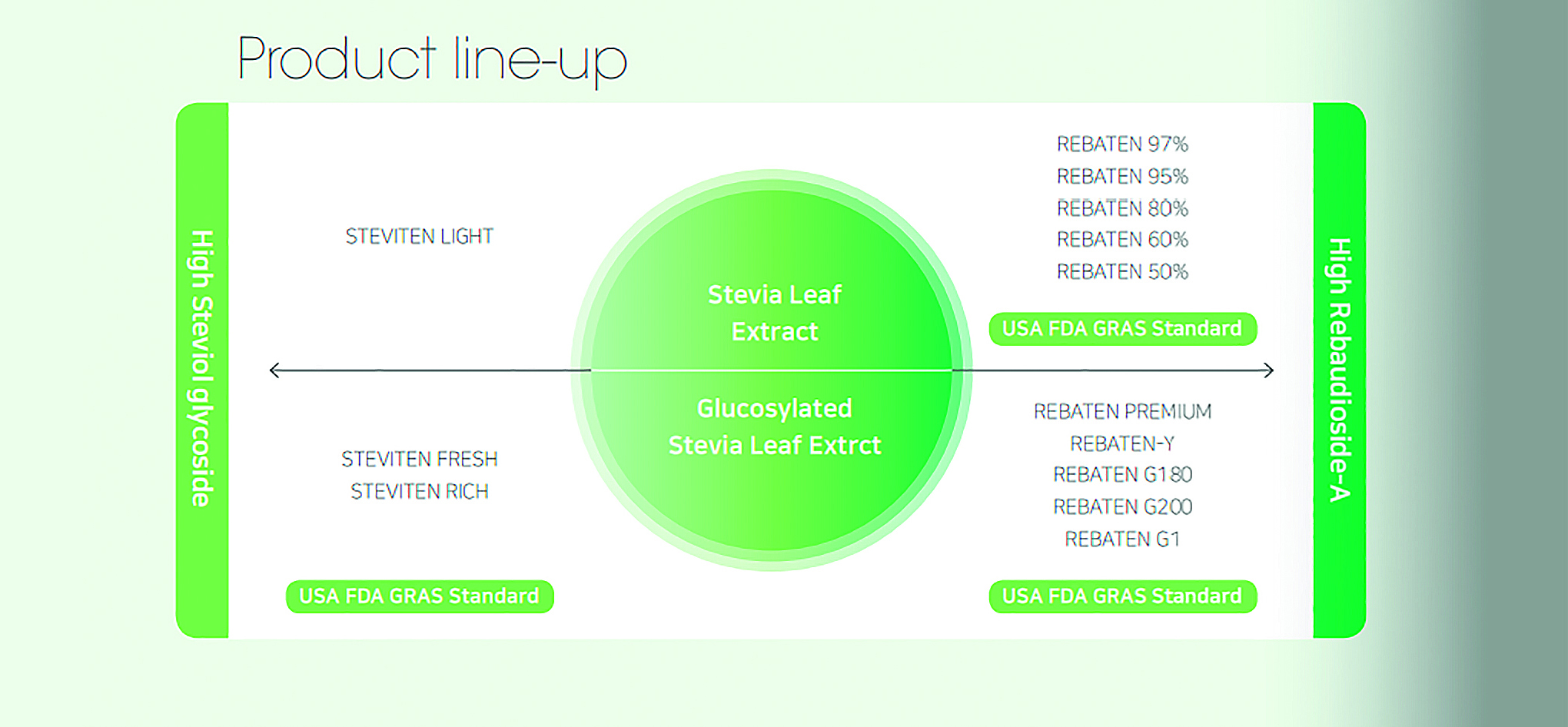 While supplying to our food producing companies, we pay special attention to the fact that the products we offer are healthy and natural products for our final consumers. Natural intense sweetener Steviol glycoside, produced by our South Korean producer company Daepyung, is obtained from the enzymatically modified stevia plant. The
raw materials for stevia are carefully selected and controlled from their origins.
Which finished products are used in; It is used in snacks, sauces, energy drinks, food supplements, beverages etc. (Figure 2)

If we want to list the Advantages of stevia;
1. Excellent Sweetness Quality
2. Outstanding Resolution
3. Cost Effectiveness
4. Thermal Stability
5. Stability Against PH
6. Long Term Storage advantage
7. No Caramelization Reaction
Environmentally friendly processes and strict quality controls are implemented to meet the requirements of our customers. Our manufacturer is ISO9001, ISO14001, BGMP, HALAL AND KOŞER certified. Our production process is equipped with the latest technology and quality systems.
– GMP system
– Concentration system
– Drying system
– Extraction, purification, crystallization system
– Enzyme reaction system
– Quality Assurance System
As HD International, we keep stock of our stevia product, you can contact us for detailed information about our products and your needs.