Fruve Naturals is a family-owned company established in Bergama, Izmir. Fruve makes meticulous controls starting with sowing, production, packaging and shipping. All of which ensure the quality of its products. Its competitiveness is due to reasonable prices for its top-quality products. We asked the details of the company's products, services and operations to its Chairman, Mr. Mehmet Mavuk.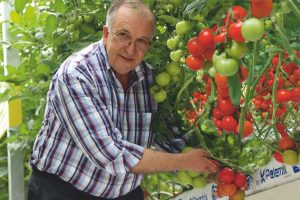 Can you inform us about the milestones of Fruve until today?
As Fruve Naturals, we are 100% wholly owned by Mavuk family who has been farmers for generations. We are strong believers of top quality and fair prices. To this end, our operations and systems have been set up with a focus on product quality and production efficiency: starting with sowing seeds, crop harvest, processing and finally shipping. Our efficiencies translate into reasonable prices that truly delight our customers.
Can you tell us about your product range and monthly production capacity?
We process fresh fruits and vegetables into real ingredients for professional use. Our locomotive products are IQF Oven Semi Dried Tomato and Cherry Tomato, as well as Sun Dried Tomato. For non-tomato items, we offer IQF Oven Semi Dried Fig and Strawberry as well as Oven Dried Orange, Mandarin, Lemon, Grapefruit, Apple, Watermelon and Persimmon.
For packaging, we offer bulk, sealed PE bags, doypacks (stand-up pouch) and trays.
Our annual production volume is 2.250 tons of semi-dried tomatoes and 1.500 tons of sun-dried tomatoes.
Many methods are used in the dried fruit and vegetable sector to provide high quality and uniform products to the consumer. Can you tell us about the production process of Fruve Naturals products?
We are strong believers that quality starts at the source. Most of the fresh produce we process are grown by contract farmers. Working hand in hand with them, we provide seedlings and initial capital, and follow through to harvest. Our agronomists accompany all stages of growing, provide sound advice when needed, and supervise the harvest.
Prior to harvest, we send crop samples to independent laboratories for testing of Maximum Residue Limits (MRL). Harvest takes place only after crops are found clean of pesticide residues and heavy metals.
We process crops inside our High Risk / Low Risk / High Care facility, meaning production equipment and factory layout are specifically designed and built to prevent cross contamination and minimize risks from microorganisms.
Our experienced Quality team pulls all stops to ensure the top product quality we are well-known for. Microbiological, Physical and Organoleptic analyses are
performed on-site at our laboratory, while pathogenic microorganisms are tested by accredited 3rd party laboratories.
We are BRC (AA grade), Halal, Kosher and Sedex certified.
What are the main features of your frozen and dried products?
Our products offer convenience for professional use; IQF Oven Semi Dried products, Oven Dried and Sun-Dried products offer 5 distinct advantages:
Unparalleled hygiene: For our Semi Dried and Oven Dried products, we dry inside ultra-hygienic industrial ovens, purpose built for our High Care facility. As for our Sun-Dried Tomatoes, these are dried on trays above concrete pavement. Again, this is an ultra-hygienic drying process, and we are the only Turkish company to sun dry in this fashion.
No moisture migration: Semi Dried, Oven Dried and Sun-Dried ingredients have the correct moisture levels to ensure zero moisture migration into dough, batter or bread when used in baking applications. Furthermore, bake time is cut drastically as our ingredients have radically less moisture compared to fresh ingredients and frozen from fresh ingredients.
Concentration of natural sugars: During drying moisture is removed from the fruit / vegetable but the natural sugars remain unchanged. Which means that wonderful fruit/vegetable taste is more pronounced, without any added sugar. In fact, many first-time users are surprised by how tasty our products despite no added sugar.
Tastes like fresh: Unlike frozen from fresh, our dried ingredients taste pretty darn close to how fresh produce tastes. Whereas the juices of defrosted produce seep into whatever container they are in, Sun-Dried, Oven Dried and defrosted Semi Dried ingredients do not have any running juices. This retention of juices ensures fresh-like texture and taste.
100% Natural: Semi Dried and Oven Dried ingredients are 100% natural, single ingredient and vegan; containing no e-numbers, no preservatives, no chemicals, no added sugar and no sweeteners. Our Sun-Dried product is an exception, other than tomato there is only one other ingredient: salt, which is in fact an age-old natural preservative.
What about your export activities? What are your current markets? Which countries do Fruve Naturals products are demanded?
Countries with highly developed HORECA sectors and convenience foods consumption show strong interest in our products. We export mainly to EU countries, UK, USA, Canada, South Korea, Singapore and Australia.
How did your products perform in 2020 at home and abroad? What was your most demanded product in 2020?
Demand for healthy foods was very strong in 2020, as we all know. We were well positioned for this increased demand. Our Oven Dried chips such as Orange, Mandarin, Apple, Persimmon, Watermelon, Zucchini, as well as our Fruit Tea Sets were successful. We always tell our partners and customers, swap fat-laden fried snacks and sugar-infused candies with our Oven Dried Fruit and Vegetable Chips. They are 100% natural with no added sugar but are guaranteed to satisfy your cravings.
The Covid-19 outbreak has increased the demand for healthy food and organic products. Many companies started to diversify their product groups based on health. Do you have any thoughts about a new investment or launching new products in your company in 2021?
During Covid-19 pandemic, internet B2C shopping has just exploded. We took part in this trend by introducing our Oven Dried and Sun-Dried products in retail sized doypacks (stand-up pouches) and selling these in e-marketplaces. You can easily find our products sold under Chef Ready®, Sol Delight® and Nature-Licious® brands in various online platforms. We have since made private labeling deals with other market players, whereby we pack our products under their brands.
For more details about Fruve Natural's products, you can read the February issue of the magazine.